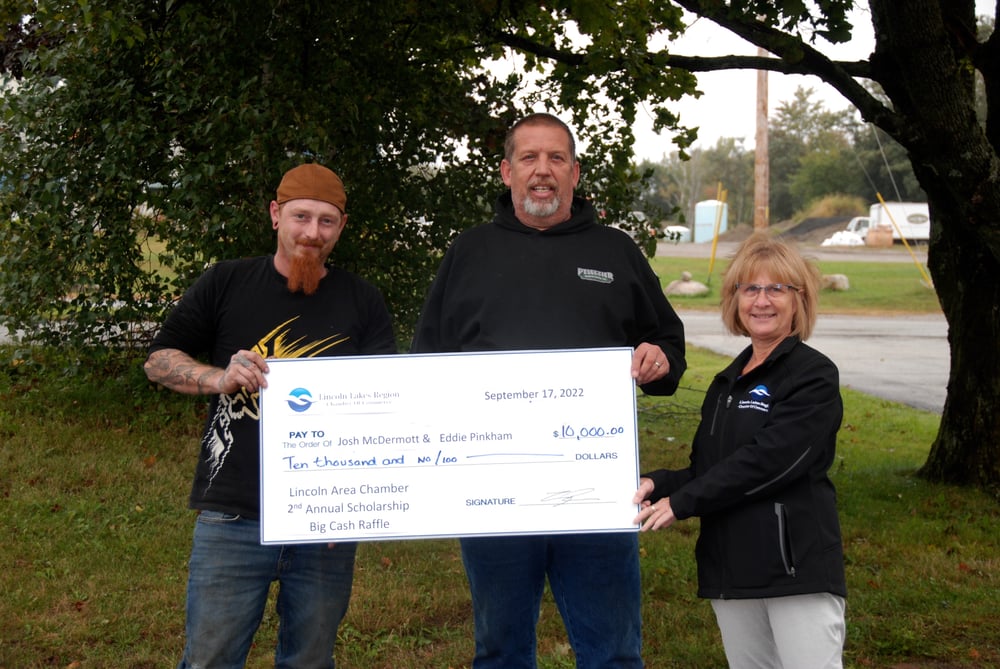 1ST PLACE WINNERS $10,000 BIG CASH RAFFLE
Lincoln Area Chamber 2nd Annual Scholarship
---
Congratulations to all of our winners and THANK YOU to everyone who bought a ticket to support local seniors on their journeys to be there next business owners and CEOs in Lincoln.

$10,000 - Josh McDermott & Eddie Pinkham
$2,000 - Morgan Espling & Joey Espling
$1,000 - Barnes Brook Golf Course
$1,000 - Crystal Matteo, Pete Graham, Carrie Skillins
$500 - Scott Hesseltine
$500 - Parker Gardner

This year the Chamber gave scholarships to graduating seniors from:
Lee Academy, Keegan Tripp
Mattanawcook Academy, Raquel Shaw
Penobscot Valley High School, Kalli Hartford.
BikeMaine 2022 Lincoln
Lincoln Lakes Region Chamber of Commerce hosted the Information Booth for last weekends Bike Maine Event here in Lincoln. The response was fantastic! The bikers were very appreciative of all of the Businesses and Community for welcoming them here to our great region! Thank you all for your support and kindness.
We would also like to say Thank You to all of our Chamber Members for their support during last week's BikeMaine weekend in Lincoln. Over 400 visitors here in our region was exciting! A special thank you to the downtown members, Steaks N' Stuff and Gatherings for the Home, Town of Lincoln. Treeline, Inc. and P.K. Floats for their participation in giving tours, Heart of Maine Winery having a tasting event and a big shout out to Save-A-Life for serving a meal. A lot of work went into this event and we couldn't have done it without you!
2022 Business Expo & Job Fair
Thank you to all that came out and joined us for our Business Expo & Job Fair last Saturday. The weather was on our side and attendance was fantastic! Thank you to our vendors for coming out and sharing great resources of information regarding their organizations. As well as showcasing job opportunities for our local community.
A special THANK YOU to The Whitetail Inn for hosting us!